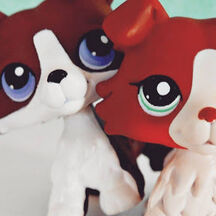 LPSskittles (formerly known as PetShopGirl11) is an American LPSTuber. Her real name is Hannah and she is 16 years old.
Hannah started her channel on June 28th, 2009 and now has over 100,000 subscribers and over 10,000,000 views. Her videos are mostly "top 10 things" but she does make a few different LPS series such as "LPS: Bully School" and "LPS: Purrston High". She also tends to make videos with a LPS character named Nola and even various videos with the theme of social justice and anti-bullying.
She refers to her fans as "little candies" because of her name being LPSskittles (Skittles being a well-known brand of candy). Her slogan is also related to Skittles, which is "Taste the Entertainment". (The slogan of Skittles being 'Taste the Rainbow'). As of 2021 she has not posted in a long time and her Instagram saying "Former LpsTuber" may show she has quit. She later started a channel called LPS Learning which made educational content for younger kids but she soon quit that. She now has moved on to ASMR,
Personal Life
Hannah doesn't post much about herself. For the most part, she tends to keep her personal life to herself and if asked questions about it, she replies with short non-informative answers.
She has told viewers that she has an older brother and they tend to be very close. On two different occasions Hannah has posted pictures of her family (both only including either her mom or brother) but since then they have been deleted. Her parents got divorced when she was young and she currently shares one house with her mom and another with her dad according to older tweets and Instagram photos.
Fame
LPSskittles' fame has grown incredibly large since her first few months on YouTube. She even told her brother "I'll never have more than 20 subscribers" and yet almost 6 years later has ended up with over 100,000.
Hannah has even been added to the site "Famous Birthdays" listed as a "web video star" and is a widely searched person on Google and other large websites.
Criticism
LPSskittles used to have two hit horror series called "LPS: Haunted" and another called "LPS: A Daughter's Revenge" which had been a great success on her YouTube channel, but she ended up deleting the two series in late 2013 due to complaints from parents about their children being scared of the content.
LPSskittles has received a lot of criticism, including criticism for her finger nails. Since she wears fake nails, she has gotten negative comments from viewers, including fans, saying that they hate how she wears fake finger nails. LPSskittles once even uploaded a video regarding these comments, telling people to stop criticizing her nails.
Social Media
LPSskittles goes beyond YouTube and to Instagram, Twiter, Facebook, Tumblr, and even more. However, a few of her profiles have been set to private due to issues on social media in the past.
Twitter - https://twitter.com/LPSskittles
Facebook - https://www.facebook.com/LPSskittles
Instagram - http://instagram.com/lpsskittles
Ask - http://ask.fm/LPSskittles