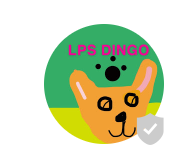 Lps Dingo is a small Lpstuber but has been growing over time her channel was created on December 31st 2014 when she was 8 years old and her first video was her showing her new Lps that she got for Christmas. She current;y has 459 subscribers.
Her real name is Allyson and she is now 15 years old and does lots of different things on her channel but mainly Lps and dolls and other things like vlogging. but she has a few series that take awhile but continue throughout time. She makes videos for her fans but has also made a few school projects and most of them have been rewarded a 10/10 or high marks. During the pandemic when Allyson was home she made videos more often. She took two youtube breaks during her life. When she started when she was 8 she made a bunch of videos but were never uploaded but Allyson now makes and edits her own videos. Her first youtube break was March 14 2015 to January 16,2016 and her second break was August 16th 2016 to July 22, 2017.
Her most popular LPS video was a school project made in Feb 2020 and it was made with her friend Heidi. The video was called "LPS-Sexual Assault Warning Facts" and it has 1000+ views, It can be seen here: ☀https://www.youtube.com/watch?v=GIwX-VPbGKE&t=18s
Lps Dingo is a small LpsTuber but is starting to grow more and will eventually grow bigger but she makes has lots of different things from lists, skits, short films, series, Mvs and more and will continue to posts all kinds of different videos throughout time.
She also does other videos like gaming, dolls, vlogs, squishes, fidgets, calico critters, playmobil, unboxings, slime and lots more but mostly she enjoys lps. Lps Dingo makes skits and films and some of which have included her friends. Some skits are funny and some have a serious meaning.

She has a few series such as Popularity, The Kindergarten Bully, The Magical Toys, Run Away From Home, Orphanage, My Mini Roommate S1 and S2, Sell That Book, The Hated Child That Became a Princess, The Mclover29 Drama, The Fight, Psychotic Ex, Sleepover, 11 Year Old Series, LPS SML, 10 ways to say and more.
She also has a few series of videos that are just using different characters but don't connect to a main story. Such as LPS Baby Bird and Mommy Bird that are two of her characters just doing different crazy adventures. She also does videos such as Lenny's blogs and other specials with a lizard named Lenny and his family. She also has a character kitten named Callie and some other characters she uses on some videos and her school projects. She also does LPS: Storytime and does a LPS: Back To School Shopping series that is updated yearly.
Series:
Allyson has made many series and she has plans to remake her old ones in the future. Some of her main series include:
LPS: Popularity- a high school series following Tiffany, a new student at school who befriends some others and sees the cruel popular girls and she finds out she needs to find a way through challenges to becomes popular and save the school: Tiffany is starting at her new school and faces hard challenges from being bullied to not fitting in. But then Tiffany meets Taylor who is supposedly the "meanest" girl in school and  it's not all as it seems. Taylor may not be the trashy mean queen bee that she seems. Instead someone stuck who wants to switch sides and help Tiffany. Join Tiffany and her friends Ginger,Janet,Jenny and Jane as they try to survive in their hardships

LPS: The Kindergarten Bully: The Kindergarten Bully follows Mackenzie who is a sweet, shy and scared kitten who can't speak up for herself. Her twin sister Tiffany goes to a different school and Mackenzie has to face kindergarten alone. She later meets Jesse. Who is a cruel bratty bully and a liar who targets Mackenzie and the other kids. Mackenzie and her friends have to find a way to get through the year without Jesse ruining their lives and a lot of stuff goes down with friends and family: When sweet little shy Mackenzie goes to kindergarten she meets the meanest girl ever named Jesse and this will lead to trouble.
LPS: Psychotic Ex: Psychotic Ex follow Ally (Allyson) who was once in a very toxic relationship with Ty (Tyson) Ty is a rude jerk and also a criminal and a crazy psychopath. After Ty heartlessly ended their relationship and Ally soon got over it and thought everything was good. Allyson moved on with her life in high school just loving hanging out with her friends, but accepting that no one loves her. Just when everything was thought to be perfect Ty returned to town to make Ally's life a living nightmarr and return with his horrible ways. Will Ally's friends ever be able to get her to be strong and realize she deserves better or will Ty be able to cling onto Ally like a desperate flea? : When Ally's psychotic and toxic ex boyfriend returns to town it's causing a lot of fear and stress on her. Ally and her friends need to find a way to help fix this and get rid of him before he goes too far with her evil ways. And they need to do this pronto. The story of Ally and Ty after their toxic relationship PG.
11 Year Old Series; There is a school with 3 groups of students.The normal kids who live their lives normal, the nice kids who are super nice and go up against the mean popular kids. and the popular big group of bullies who want to rule and destroy the nice kids. Jazzy is the ruthless leader of the popular kids and her and her sidekicks want to make the nice kids lives a misery. It goes on every day until a new girl Bella comes to school who befriends the nice kids. She wants to prevent herself from becoming a target but later unexpectedly becomes the new best girl in school. and her motives aren't the same as a "normal" new girl.: Riley or Jazzy? A school of a ton of mean girls and a certain one must prevent herself from becoming the next target. Also this isn't 100% made for kids. Yes I wrote it when I was 11 and is short and sweet but it gets interesting. When a normal group of girls puts up with the snobbish popular brats every day their lives get a lot more interesting when a new girl comes to town to join the games. What games? Not a game where you can win or even have the option of playing. But just remember things aren't always as they seem. Let's just say 11 Year Old Series isn't like most LPS high school series you've seen.
LPS: The Fight: The Fight follows Allyson's two best friends Diane and Heidi. Who unexpectedly get in a big fight one day at school. But when Ally accidentally opens her big mouth and- long story short now the whole school and even the teachers are at Allyson's house for an epic fight and what will happen between these former BFF's when Heidi doesn't want to fight? Allyson doesn't want to lose either friend so it's all going to come down to Keirsten. To think of a way to end this. Allyson's two best friends Heidi and Diane get into a fight. And it goes way too far.

LPS:Sell That Book!: Sell that book follows Allyson, Diane, Peyton, Tyson and Heidi filming projects where they have to sell books and the filming process is very difficult. Allyson sells Frozen, Diane sells Anne Of Green Gables and Heidi sells Pit Pony.: Allyson, Diane And Heidi have to sell books with many complications and interruptions. Who will snap first?
LPS: Run Away From Home: Run Away From Home follows Kidd a young boy who's life is a mess with his parents fighting and hating him. His best friend Sapphire goes to the guidance counselor for help because Kidd wants to run away. And a crazy Psychopath named Marc who ruins kids lives is listening.. He's ruined kids lives before. Who said he wouldn't do it again? and it looks like Kidd and Sapphire are his next targets.: Kidd Rafude is having a hard time at home and wants to end the troubles by running away and his "friend" Sapphire wants to help but a kid named Marc might have a different plan in mind..
LPS: The Magical Toys: The Magical Toys is an old series who follows Anna who's twin sister Avery gets lost. Everything is super confusing when Anna is stuck with her random friends outside where nothing makes sense. But in the end it's all a crazy dream that is caused by magical toys.: Join Anna and her friends to find out if Avery is really in trouble or if they're just losing their minds.
LPS: Sleepover: LPS Sleepover is a 400 sub special about Melissa hosting a sleepover with Ashley and two love birds Willow and Tyler and super annoying Callie. Will they still have a fun night?: Melissa, Callie, Willow, Ashley and Tyler have a crazy and fun sleepover! ❤️ Thanks for 400 subs
LPS SML: LPS SML is a series where Allyson uses SML audio but makes it with lps characters. The stories can ether be funny or crazy.: LPS VERSION of SML videos made my Logan Thirtyacre and the SML crew! I don't own the audio and my videos are bad but whatever. SML movies, shorts and MVs. Characters:Hop Hop Bunny, Black Yoshi, Chives, Ling Ling, Richard, Dak, Doctor Me, Luke, : Judy, Tyrone, Pumpkin, Jackie Chu, Simmons, Bully Bill, Penelope, Bowser Junior, Cody,Joseph,Chef Pee Pee, The SPS, Brooklyn Guy, Karen, Mario, Jeffy, Rosalina, Mr Goodman, Benjamin, Scooter, Mercedes Benzover, Precious, Tanner, Paul, Chris The Cucumber, Cecilia, Delilah, Loan Dolphin, Tom Brady, Booger and more. (I will censor all cursing). (This is also not associated with Nintendo in any way shape or form.) Cuss words like slurs, sh!t, fu*k, b*tch and words like that will all be censored either by a bleep or squeak toy. But words such as crap, hell, damn and ass may occur. Viewer discretion is advised. Also note: I Allyson (Lps dingo) do not promote the actions of these characters in any way. I do not support cursing, racism or bullying, violence or anything of the sorts. I just make these videos for entertaining purposes only and for inspiration so please don't take it too seriously. - Thank you
LPS: Orphanage: The Orphanage series follows Crystal who is a teenage orphan at an amazing orphanage with lots of little kids who are her best friends. The orphanage is beautiful and a new girl Katelyn comes to the orphanage. But this orphanage has a big problem LIliac Spears. She has been a terrible and brutal bully in the orphanage for years now. Hurting everyone. But soon it is discovered Liliac isn't really an orphan but a evil child who is working with her mom to get the orphans and ruin the workers lives, So the orphans decide to run away and it causes big problems. Through meeting new friends and moving and trying to find a way to defeat Liliac. Crystal and the others need to find a way to live and get an amazing orphanage back.: The normal orphanage is ruined by a bully Liliac but she may be more then just a bully.....
LPs: The Hated Child That Became a Princess: This series is inspired by gacha life and follows Lena and Flora. Her mother loves Flora but abuses Lena. Her father loves both of them. Lena gets bullied and due to the abuse her father leaves. Leaving Lena alone with the cruel abuse from her mother and sister and her sisters friends. No one seems to understand her until her teenage years when she meets Lenny and later during transformation Tuesday we find out that Lena is really a princess and worth more then she thought.
LPS: My Mini Roommate S1: My Mini Roommate follows Dan, a teenage rabbit who has a perfect life. Gets lots of attention from his parents and he has his two best friends Kevin and Tyler and his girlfriend Maria. But that soon all changes when he finds out a little mouse his age named Evan and his parents will be moving in with Dan's family and ruining and changing his life. Dan is determined to get rid of his new rodent roommate. Evan does everything to be nice and friendly and kind to Dan but Dan still hates him and think he is a childish rat. Dan's parents keep getting mad at Dan for being so rude but he doesn't care and continues to bully Evan. Evan soon meets a girl named Misty who also has her fair share of trouble. But what will it take for Dan to finally care about his new unexpected roommate Evan?: Dan the rabbit has everything he loves and his bro best friends seem to know how to live. Dan has always not talked to other people and stayed with his friends and girlfriend. But when family issues start rocking the sea things might get ugly. When I little mouse named Evan is moving in with Dan and his family and change everything, Dan"s bad attitude can only make things worse. But you can trust the people you want to right?

My Mini Roommate S2: In Season 2 of My Mini Roommate: Life seems great. Dan and Maria are together as well as Evan and Misty and the 4 of them are best friends. Evan's family now has a lot of money but at school there is a still a bullying problem as well as Kevin and Tyler who are now evil and want to bring Evan down.:Ever since Dan reformed he has been having fun being best friends with Evan and his girlfriend Misty and Dan's girlfriend Maria and life is great expect for Dan's ex friends Kevin and Tyler who are more then rude bullies who want to ruin everyone and make trouble but Evan is misunderstood when he starts seeing his dead sister who seems to be sending a message. With Dan now being a protagonist instead of antagonist the group will get into something big. Misty only has one messed up life but for the first time ever Dan has the choice. Stick with true friends and risk it or go back to his old ways and his perfect life. There's also a new girl at school but we don't know what she's up to... yet.

LPS: 10 Ways To Say: 10 ways to say is a series Allyson filmed with her friend Gracie where they pick a phrase and try to read 10 ways to say it in other languages. But Allyson and Grace just laugh the whole time and mess up on most of the words. But they always apologize for offending people.
LPS: The Mclover29 Drama: The Mclover series is inspired by and using characters from Peachysaiyan's Mclover29 series on tiktok. Allyson basically puts ideas that could happen in the series. Peachy is a kind streamer on twitch and this kid named Mclover29 used to be a troll but now he's changed and applied for mod. But Peachy's main and secretly evil mod Enderman treats Mclover badly and makes him leave forever. So Mclover and his best friend Jules make up a plan to bring down Enderman and Inosuke: What will happen with Mclover29, Wholesomejules99, Inosuke_zaddy, Enderman, Peachy, Brokage, Dwight, NoSc0per and TeamNoSleep? All credit for inspiration goes to Peachysaiyan on TikTok. So please follow her ❤️
LPS: The Empty House: This series follows a group of cousins who live in a house together but the house is empty and then they need to fix the messy house and set up a new life: A fun, short, unscripted series with my cousins! It's about a group of cousins who move into a new house and get a lot of presents and need to clean up and live. Sweetie Belle from MLP is also featured. The kids names are Allyson, Leah, Lyra, Kayla and Layla.
LPS: Christmas Carol: A lps version of the Christmas Carol movie. It's about a girl named Ami who is rich and all alone and hates the holidays. She doesn't treat others very nicely but sees nothing wrong with that.. Until 3 ghosts show her the twisted truth.: Ami learns the lesson of change.
LPS: Different Cliche: Different Cliche follows Melody Leopold. Who moves from California and is starting at her new school. Melody isn't like most teens as her mom makes her clean the house all of the time to be perfect. Melody doesn't want to be popular she just wants the other students to not hate her. When she gets to school instead of befriending two girls she befriends two guys. She then sees the popular girls. The popular girl is named Gracy and she has a boyfriend Kyle. Soon Gracy"s sidekicks feel threatened by Melody so they have a plan to ruin her. But Gracy doesn't want to. Although a war between Melody and Gracy begins it might not be like every story ever and the two just might end up falling in love. It seems like a very stereotypical story about a new girl at a high school like you've seen in every other lps series in existence but it's really not... it's cliche but in a different way. Melody Leopold is a teenager who moved FROM California and is starting at her new school. She's pretty average but not really. She's pretty insecure and quiet and just lives her life. Unlike most kids her age her mother does not excessively spoil her but instead wants to make her perfect by making her clean the house. When Melody arrives at school she doesn't want to get involved in drama and make this turn into movies she's seen. Instead of befriending two random girls who coincidentally have lockers right next to her and tell her all about the school and popular girls, Melody finds herself being a little bit harsh on people. Typical teenage drama is expected and that's what Melody gets. On her own she discovers the popular girls and Gracy who is known as the cruel leader and maybe you think it will be war between Melody and Gracy? No, instead Melody befriends two guys named Jasper and Cody and Gracy"s friends want war on Melody but Gracy doesn't.. yet or she doesn't really..... But things are going to change when already Gracy's boyfriend Kyle is falling for Melody. But Melody has already fallen for someone else
LPS: Fake Life: Fake Life follows Misty (From My Mini Roommate) Who one day wakes up in a strange house that she's never seen before and with someone who claims to be her mother and this has always been Misty's house. But Misty knows this is wrong and is scared about how she got here. Things just get worse when Misty goes to school and sees that her two best friends Maria and Dan and even her boyfriend Evan have no idea who she is and want nothing to do with her. Misty is even more confused when it turns out she is now known as Marina the popular girl. Misty is confused and scared but it seems that everyone else is too. But things don't seem right and aren't as they seem. Perhaps Kevin and Tyler have something to do with this? Imagine waking up one morning. In a strange house you've never been at before, with strange people you've never met who claim things have always been this way. No one knows the truth except for you. Your real friends and family don't remember you and your life is a mess and you're at a loss of what to do. And that, it's putting yourself in the shoes of Misty Patterson.
LPS: Friends for Love and Family: Friends For Love And Family follows 3 sisters. Allyson, Leah and Livy. and their 2 dogs Dozer and Buddy, their cat named Lucy and their bunny rabbit named Pobo. They go on all sorts of adventures together and live their lives as a family. Join Allyson, Leah, Livy, Lucy, Dozer and Buddy. I group of friends who live like family and go on all sorts of adventures! They were based off of kids that Allyson and Leah used to play with next door even though a lot of them aren't there anymore. They can all be heard in the character introduction. Allyson is just Allyson (Lps dingo) , Leah is Allyson's real sister named Allyson. Livy is a real girl named Livy, Dozer is Seth, Buddy is Riley Ross, Lucy is a girl named Riley and Pobo is Grady. Allyson is just now continuing the series after 4 years.