puppylover863, commonly known as Daisy, is a well-known LPSTuber. She reached 50k subscribers recently and made a Q & A video for the occasion.
She is best known for her series #DareUs. The genres of her videos are usually fantasy and comedy. Her slogan is "The Place Where Littlest Pet Shops Come to Life" She is also a "My Little Pony" Fan.
Her mascots are Daisy (A light brown Dachsund) & Justin (A white great dane).
She has over 200 Littlest Pet Shop pets. She has never shown her face or revealed her real name but has said that Daisy can be her face and as her name.
Her series are: Royal Secrets, The Big Move (which has recently ended), #DareUs and LPS Gaming.
She also has Behind The Scenes where she shows what's going on well..behind the scenes!
Most Popular Film Productions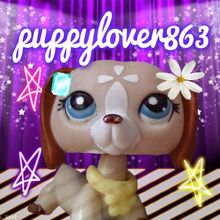 Royal Secrets- Two different girls, one in a kingdom, one a normal girl, have nothing in common. But when the princess comes to the normal girl's school, secrets are revealed, relationships are pushed, and the two girls may have a few things in common after all.
The Big Move- Sophie Hilton is the new girl at school. Well, she once lived there, and now she is moving back. One of her friends is very happy to see her, but the other has a new friend, and what seems to be just a little drama spirals into chaos, lies, friendships and relationships torn and sewed back together, all because of one big move.
Behind the Scenes- Have you ever wondered what happens behind puppylover863's videos? With the help of Daisy, Justin, Selena, and more, things might work out. Check out Behind the Scenes.